It's been thirty years since Image Comics revealed the satirical sequence 1963, and did not publish the ultimate situation, the 1963 Annual.
---
A yr in the past, Bleeding Cool reported that Don Simpson, in a rather incendiary fashion, was planning to create and full the 1963 Annual, the Image Comics title that was meant to have been written by Alan Moore and drawn by Jim Lee, that might have been the ultimate situation to the 1963 comedian guide from 1993 written by Moore, and drawn by Steve Bissette, John Totleben, Rick Veitch, Don Simpson, Dave Gibbons, Jim Valentino, Chester Brown and plenty of extra.
Now it seems that Fantagraphics, who revealed -and not too long ago republished – Alan Moore and Don Simpson's story In Pictopia, can be publishing this because the excellently titled X-Amount Of Comics [1963: WhenElse?! Annual]. Don Simpson posts it's "a complete, 72-page story (I overshot the original 63-page target) and will be published later in 2023 (the 30th — 60th? — anniversary) by Fantagraphics Underground. Blame Gary Groth and his meddlesome impulses! With authorized cameos of Big Bang Comics courtesy ™ and © Gary Carlson and Chris Ecker, and more inside jokes and arcane references than a Wold-Newtonian or Kayfabian (Win Scott Eckert, Paul Spiteri, Frank Schildiner, Jim Rugg, Ed Piskor) could unearth! More details to follow, so stay tuned …"
Fantagraphics Underground, which revealed In Pictopia describes itself as "our small-run imprint for a rarefied readership. FU means uncensored expression, author ownership, and work that can only be published outside the mainstream. This is a return to our roots—publishing books that are innovative, quirky, idiosyncratic, oddball, experimental, or downright crazy." X-Amount Of Comics will embrace Megaton Man alongside characters from In Pictopia in addition to a model of Alan Moore going by the identical of Paul, and plenty of references to all these works, the creators, publishers and characters of the day.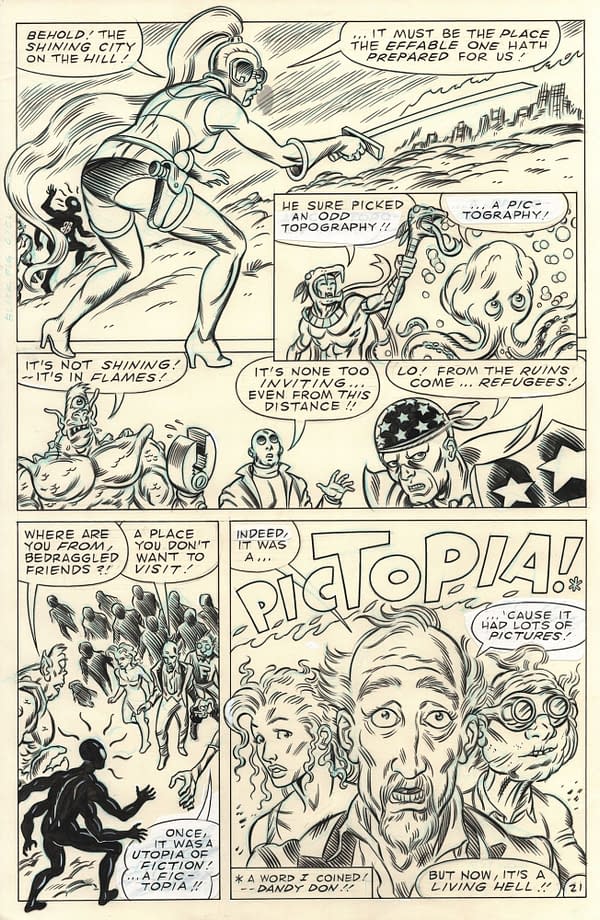 Don Simpson elaborated on Facebook on why 1963 was initially unfinished, saying "I think one reason it was never brought to completion was because there was supposed to be some grande statement, some beau jeste, to top it all off. And it's kind of hard to pull the trigger on a satirical point about how comics got lost at the end of the twentieth century after you've been fellating Todd McFarlane and Jim Lee and socking away a fortune… Alan had the clout to see 1963 through to completion but sold out to the big money floating around elsewhere at Image and lost his gumption. His war against the industry ever since has been a war against the creator-owned properties he's controlled (1963 and In Pictopia being the two with which I have immediate familiarity), which really has brought Hollywood and corporate comics publishing to its knees, hasn't it?"
He beforehand acknowledged; "For the record, from everything I know of the situation, I am convinced the author of the series bears the ultimate responsibility for 1963 never having been completed. Jim Lee is also clearly a villain in the piece, in my view; he intentionally interposed himself as penciller of the Annual, never with the least intention of actually following through. He wanted to sabotage the project from the beginning, and that's been obvious. But at the same time, it was obvious very early that if anyone in the business had the clout to work around Lee it was the author; the author has had several opportunities besides to see the project through, and has simply bailed. This demonstrates not only an unimaginable disregard for the fans and readers — an overweening ego-trip and sense of entitlement that many of his most ardent fans perversely take as a sign of genius — but it also demonstrably set back the cause of creator-owned comics, because it showed creators could not be responsible proprietors of intellectual properties. The irony is that work-for-hire projects like Watchmen remain in print and 1963 remains in the back-issue bin, fragmentary and uncollected and incomplete. Stupid, stupid indeed. Shame on the author forever."
Don Simpson additionally clarified to Bleeding Cool a yr in the past, "It should be noted that "my" 1963 (WhenElse?!) Annual makes no use of any protected characters or trademarks from the 1993 Image project, or any characters currently owned by Steve Bissette or Rick Veitch; it uses simulacra or parody characters and just stuff I'm making up. For the record, I also wrote and drew an original N-Man story for Steve's Naut Comics anthology a couple years ago which is a completely unrelated to my 1963 WhenElse?! Annual satire. Also, my 1963 WhenElse?! Annual satire is not to be confused with another project, Giant-Size 1963, which does license Steve's 1963 characters in new adventures. So, there may (or may not) be three different projects loosely dubbed "1963" appearing sometime around 2023, the thirtieth anniversary of the unfinished 1993 1963. Thanks for letting me clear that up!"
But Don Simpson's work on these 1963 characters is getting one other outing, courtesy of one other former collaborator on the outs with Alan Moore, Steve Bissette who can be lastly publishing his personal 1963 spinoff guide that includes characters he created for the 1963 sequence as Tales of the Uncanny. Bissette writes; "I'll spill the beans: since it's the 30th anniversary this year, spent part of the week prepping art files/illustration files, some dating back 25+ years, and delivered the first massive batch to the designer of the first book for 2023 of new works featuring my lot of characters from the '1963' series. The series will include Don Simpson's incredible N-Man story, which Don cooked up years ago. Been chipping away at these projects privately for decades now."
Also, there's a "Giant-Size 1963 Fan Project" coming collectively, for the anniversary yr as nicely, from the Cartoonist Kayfabe Ringside Seats neighborhood. Anyone else need to have a go? it appears to be open season on 1963…